We are committed to protecting people and the environment wherever we operate. Protecting people and the environment are integral components of The Chevron Way. Adhering to The Chevron Way means that we conduct our business in a socially and ethically responsible manner, respecting the law and universal human rights to benefit the communities where we work.
In Indonesia and around the globe, we operate our oil and gas operations in accordance with applicable environmental laws and regulations, and recognized global industry standards. We apply the same standards and best practice in environmental management and continue to seek new ways to minimize our footprint and improve environmental and social performance.
We have invested in several environmental programs approved by the government and have been recognized as a leading industry which reduced air emissions, produced water and solid waste associated with our operations.
We have successfully reduced air emissions from operations by 70 per cent over the last ten years and started a project to eliminate produced water discharge from operations. In the Minas field, we practice zero water discharge, or Zewadi, where instead of discharging produced water into the environment, it is re-injected back into the earth to produce more oil. By implementing Zewadi, Chevron Indonesia successfully meets and exceeds the Government of Indonesia's regulations that aim to conserve the environment. In late 2017, we were honored with the Sustainable Business Award Indonesia (SBA-I) 2017 in the Best Water Management category.
We focus social investment programs on biodiversity and environment conservation, with an emphasis on activities which contribute to local economic growth. We support various rehabilitation and conservation programs throughout Indonesia.
empowering waste bank groups
Managing waste is a global concern. Knowing this issue is important, PT Chevron supports environmental programs that improve local economies and help communities thrive. For example, we provide technical training, equipment and other forms of assistance to establish and maintain waste banks in neighborhoods near our operations.
Pematang Pudu Bersih Waste Bank, our first waste bank project in Riau Province, operates in the Pematang Pudu subdistrict of the Mandau District in the Bengkalis Regency and has been receiving our support since 2015. This initiative to help communities manage household waste continues to grow, with waste bank groups now established in the Minas and Rumbai districts of the Siak Regency.
technology and elephant conservation
PT Chevron supports a conservation program in Riau dedicated to preserving and protecting the Sumatran elephant (Elephas maximus sumatranus), a subspecies of the Asian elephant that is nearing extinction. In addition to focusing on elephant rescue from poaching and human-elephant conflict, the program is committed to elephant habitat development. The initiative is based on a Memorandum of Understanding between PT Chevron and the Indonesia Elephant Society, or Perkumpulan Gajah Indonesia (PGI). Program partners include the Living Environment and Forestation Ministry, or Kementrian Lingkungan Hidup dan Kehutanan (KLHK); the Riau Great Hall of Natural Resources Conservation, or Balai Besar Konservasi Sumber Daya Alam (BBKSDA) Riau; and the General Directorate of Natural Resources and Ecosystem Conservation, or Direktorat Jenderal Konservasi Sumber Daya Alam dan Ekosistem (KSDAE).
As part of the program, PT Chevron financed and PGI installed three GPS collars and eight camera traps for observing herd movement, including in PT CPI employee housing areas. The technology is useful for mitigating potential human-elephant conflict, provides data on the physical characteristics of individual elephants and helps with estimating body weight.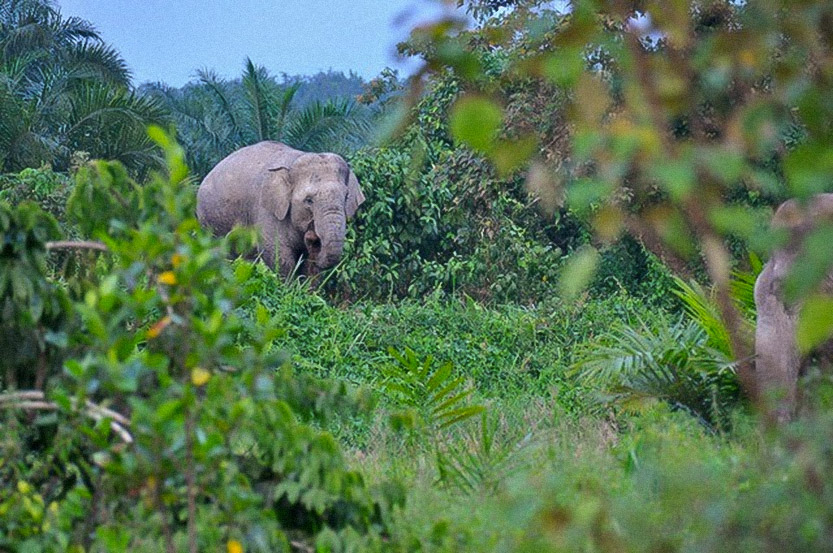 rescuing mangrove ecosystems
Mangrove forests are important coastal ecosystems. Approximately 80 percent of the world's fish catches rely on mangrove forests, directly and indirectly, and the forests' dense root systems and vegetation filter waste and pollutants from the surrounding waters.
To support mangrove forest conservation in Indonesia, PT Chevron participates in the Mangrove Ecosystem Restoration Alliance program, or Aliansi Restorasi Ekosistem Mangrove (MERA). The MERA program is based on scientific assessment as guidance in mangrove forest restoration and is an initiative of Archipelago Nature Conservation Foundation, or Yayasan Konservasi Alam Nusantara (YKAN), an affiliation of The Nature Conservancy.
Through MERA, Chevron supports mangrove ecosystem conservation efforts along Jakarta's coast. The program will be replicated in coastal mangrove forests in Riau's Dumai City and Bengkalis Regency. Our aim is to have a positive impact on these areas ecologically, socially and economically.
MERA also focuses on climate change adaptation and mitigation and aligns with several of the United Nations Sustainable Development Goals (SDGs), including Goal 14: Life Below Water and 17: Partnerships for the Goals.
conserving marine biodiversity and promoting eco tourism
We support rehabilitation programs for coral reefs, green turtles and mangroves, as well as help develop eco tourism on Maratua Island.
rehabilitating forests
Since 2003, we have successfully re-established approximately 20 acres (80,000 sq. meters) of mangroves in Penajam area, in south Balikpapan. We also play an active role in rehabilitating the Telaga Sari City Forest in Balikpapan. We helped establish the Telaga Sari Educational Forest Center, which is now managed by 18 local schools. We also take part in tree planting initiatives: some 5,000 local trees have already been planted in the city forest. In 2013, we started a tree nursery to ensure a supply of healthy seedlings. In partnership with Conservation International and local organizations in West Java and Riau we established a three-year sustainable environmental program in late 2015. The program focuses on biodiversity monitoring, community engagement and reforestation. In Riau, Rumbai Forest Nature Park is a crucial part of the ecosystem in Riau. This 400-hectare parcel of secondary forest houses more than 103 animals and 120 species of plants since 1988, making it the "lungs" of Pekanbaru city.
supporting endangered species
We joined the park and the Raptor Sanctuary partnership network to create the Suaka Elang (Raptor Sanctuary). This sanctuary has bird rescue operations and educates the public about these birds of prey and their habits. We also supported a study of the endangered Sumatran tiger population in the Duri area. Through our Eye of the Forest project, we worked with Conservation International to monitor threatened and endangered species such as the Javan leopard.
establishing the green corridor
In 2011, we worked with Mount Halimun Salak National Park, the Kehati Foundation and local partners to establish the Green Corridor Initiative to help restore more than 1,250 acres (5 sq. km) of critical ecological zones in the park. This initiative aims to plant at leads 250,000 native trees over five years.