press release

Committed to Exploring Geothermal Resources in Southern Sumatra, Chevron and Pertamina Geothermal Energy Signed a Joint Study Agreement

Jakarta, 12 July 2023 – Following up on their commitment to develop potential geothermal resources along with a green hydrogen project in South Sumatra, PT Pertamina Geothermal Energy Tbk. (PGE) (IDX: PGEO) and Chevron New Energies International (Chevron), signed a Joint Study Agreement (JSA) to investigate additional geothermal resources in Southern Sumatera provinces at the opening of the "Indonesia EBTKE (New Renewable Energy and Energy Conservation) Conference and Exhibition 2023" at the Indonesia Convention Exhibition (ICE), BSD, Indonesia.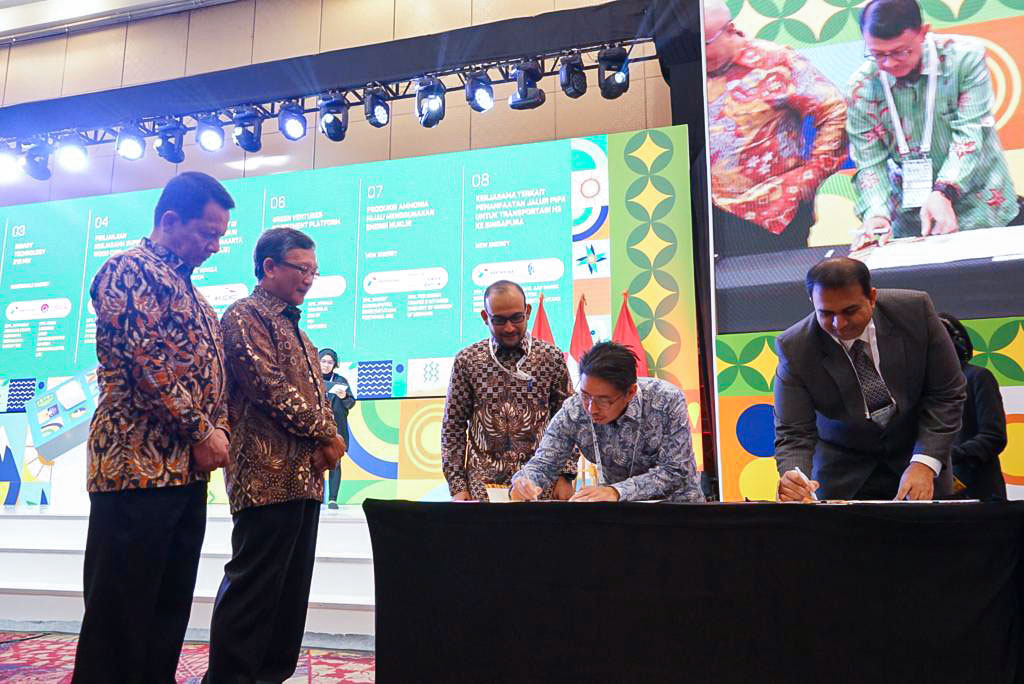 The JSA aims to draw on the complementary strengths of PGE, the largest geothermal company in Indonesia and Chevron, a multinational energy corporation committed to providing affordable, reliable, and ever-cleaner energy. Chevron is confident that its expertise and technologies in geothermal exploration, subsurface studies, project development, and operational excellence combined with PGE's extensive geothermal operations will bring value and benefit to the wider community through the provision of reliable and affordable renewable energy.
President Director PT Pertamina Geothermal Energy Tbk. Julfi Hadi enthusiastically welcomed the Joint Study Agreement collaboration between PGE and Chevron, "With its abundant renewable resources and favorable geographical location, Indonesia has all the ingredients necessary to become a prominent source of green hydrogen and ammonia. Realizing this potential, PGE is synergizing with Chevron in hopes it can have a broad positive impact on society, especially in the Southern Sumatra region. This collaboration is also our first step towards becoming a 1 GW company within the next two years."
Chevron Indonesia Country Manager, Wahyu Budiarto, stated, "We have a long history of working in Indonesia and with Pertamina. Indonesia has been an important part of our company's portfolio for many years. We look forward to leveraging Chevron's expertise and novel technologies in geothermal to explore Indonesia's renewable energy resources with PGE."
This JSA is the fourth agreement to come out of the initial collaboration between Chevron and Pertamina announced in Washington, D.C., in May 2022 to explore potential lower carbon business opportunities in Indonesia. The first, announced at the B20 in Bali in November 2022 between Chevron New Energies, Pertamina Power Indonesia and Keppel Infrastructure, is aimed at exploring the development of selected green hydrogen and green ammonia projects, using renewable energy in South Sumatera, Indonesia. The second JSA was signed in Houston, Texas on March 6, 2023, to examine the feasibility of carbon capture storage and carbon capture utilization and storage (CCS/CCUS) in East Kalimantan, Indonesia. The third, PGE and a Chevron affiliate in Indonesia, entered into a consortium agreement to participate and then won in a tender of Way Ratai geothermal working area in Lampung, Indonesia.
About PT Pertamina Geothermal Energy Tbk.
PT Pertamina Geothermal Energy Tbk. (PGE) (IDX: PGEO) is part of PT Pertamina (Persero) Subholding Power & New Renewable Energy (PNRE) which is engaged in geothermal exploration, exploitation, and production. Currently PGE manages 12 Geothermal Working Areas (WKP), 1 Geothermal Permit (IPB) for PGE Subsidiary PT Geothermal Energy Seulawah (GES), 1 Geothermal Permit (IPB) Assignment to PGE Subsidiary Kotamobagu (PGEK) with installed capacity of +1.9GW, of which 672 MW is operated and managed directly by PGE and 1,205 MW is managed under the Joint Operation Contract scheme. Geothermal installed capacity in the PGE working area contributes around 80% of the total installed geothermal capacity in Indonesia, with a potential reduction of CO2 emissions of around 9.7 million tonnes of CO2 per year.
As a world class green energy company, PGE wants to create value by maximizing end-to-end management of geothermal potential and its derivative products and participating in the national and global decarbonation agenda to support Indonesia's net zero emission 2060. PGE has excellent ESG credentials with 13 Gold PROPER award from 2011 to 2022 in the highest environmental compliance award from the Ministry of Environment and Forestry ESG Rating & Engagement.
About Chevron
Chevron is one of the world's leading integrated energy companies. We believe affordable, reliable, and ever-cleaner energy is essential to achieving a more prosperous and sustainable world. Chevron produces crude oil and natural gas; manufactures transportation fuels, lubricants, petrochemicals, and additives; and develops technologies that enhance our business and the industry. We are focused on lowering the carbon intensity in our operations and growing lower carbon businesses along with our traditional business lines. For more information, please visit www.chevron.com
PT Pertamina Geothermal Energy Tbk.
Muhammad Taufik
Manager Corporate Communication & Stakeholder Management
PT Pertamina Geothermal Energy Tbk.
M: +62813-1860-9796
Chevron Indonesia Business Unit
Ferita Damayanti
Corporate Affairs Manager
Chevron Indonesia Business Unit