press release

Employees and family members of PT Chevron Pacific Indonesia volunteer for the i-SERVE Vaccine Program
Supporting the success of the National Vaccination Program for children aged 6-11 in West Java
Jakarta, 7 February 2022 – In an effort to prevent the spread of the Covid-19 virus in the school environment and assist the national vaccination program, YCAB Foundation held a mass vaccination activity for children aged 6 to 11 years titled "West Java i-SERVE Vaccine Roadshow". This activity, which has been running since the end of December last year in a number of schools in Bekasi and Bandung, is supported by PT. Chevron Pacific Indonesia (PT. CPI). Other forms of support provided by PT. CPI include volunteering in the vaccination activity.
As many as 30 employees and families of PT. CPI were enthusiastic and actively participated in assisting the implementation of vaccination activities at SDN Jatimakmur V and SDN Jatirahayu VIII. According to Teddy Abrian, Senior Manager of Commercial PT. CPI, "I am proud to be able to contribute as a volunteer in this children vaccination program. By participating directly in this program, I can see firsthand how our health workers professionally carry out vaccinations for children. As long as the Covid-19 pandemic is not over, I will continue to support the implementation of programs like this."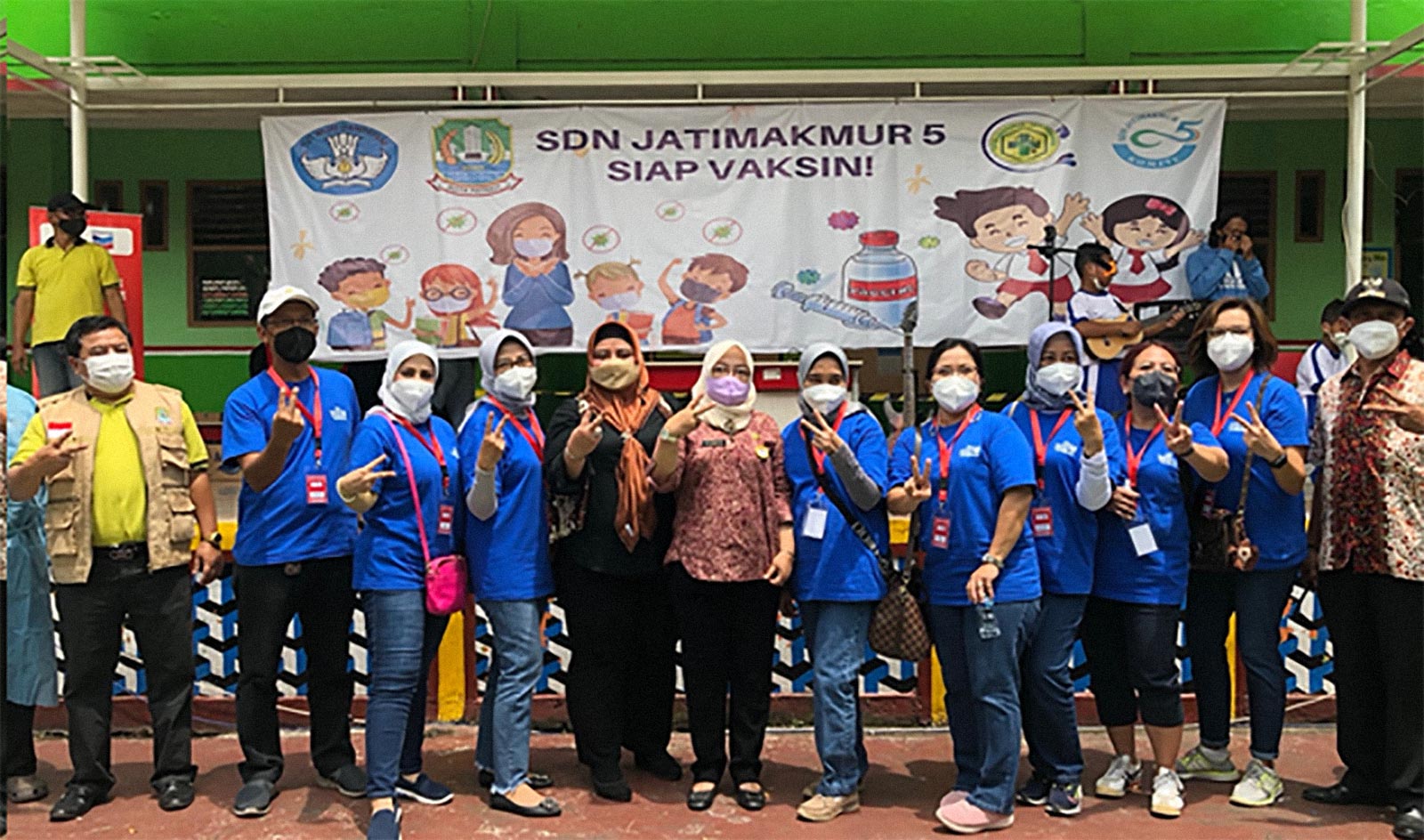 Through this collaborative program, i-SERVE Vaccine hopes to further support the achievement of the herd immunity target set by the Government of Indonesia. President Director of PT. CPI, Albert Simanjuntak stated, "PT CPI is grateful to be able to participate as volunteers in the field to assist health workers in the children vaccination program in several schools in Bekasi. We hope that the i-SERVE Vaccine program can help the Government of Indonesia, especially the local Health Office, in achieving the vaccination target for elementary school students."
PT. CPI's presence in the i-SERVE Vaccine was well received by the school and parents. The Principal of SDN Jatimakmur V, H. Dedi Supriyadi, S.Pd., expressed his appreciation. "This is our first time seeing a large company participated directly by volunteering to help launch a school vaccination program. Of course, this program provides enormous benefits in breaking the Covid-19 chain, both for our students, as well as the wider public. Hopefully PT. Chevron Pacific Indonesia can continue to be a driving force in supporting the Indonesian government's programs, especially in the field of education for future generations," said Dedi.
Gita Elwarin, one of the parents at SDN Jatimakmur V, also expressed her appreciation for the vaccination program, which was favored by all students, "The whole vaccination process went very well, smoothly, and according to schedule. My son and I are very happy to be able to experience the benefits provided by PT CPI and YCAB Foundation through the i-Serve Vaccine program. We hope that PT CPI and YCAB Foundation can continue to hold programs like this, not only for vaccination, but also for other activities in the near future."
Until the end of January, i-SERVE Vaccine has served more than 25 schools in West Java and has vaccinated 10 thousand children aged 6-11 years old, including children with disabilities. Vaccination services for students are important because of the increasing number of Covid-19 cases in the midst of 100 percent face-to-face learning. Therefore, through i-SERVE Vaccine, the YCAB Foundation provides vaccination services to several schools in West Java.
Veronica Colondam, Founder and CEO of YCAB Foundation stated, "Education is the basic right of every child to attain a better life. However, the Covid-19 pandemic is increasingly worrying, especially for underprivileged children as it takes away their right to education due to various limitations. One of the obstacles they experience is the difficulty to follow the lessons delivered online, as they must wait for their turn to use gadgets. In addition, social interactions that are important in the child's growth stage, such as playing, are also nearly lost. No wonder many parents and teachers have requested face-to-face schooling to continue. Therefore, YCAB Foundation takes an active role through the i-SERVE Vaccine, to help protect children from the threat of Covid-19 as well as to help fulfill their right, namely adequate education."
The i-SERVE Vaccine service for children aged 6-11 years has cooperated with various parties, including the West Java Provincial Government and the Bandung and Bekasi City Governments. It is hoped that through this activity, the national vaccination target for 26 million children aged 6-11 years can be achieved soon.
Apart from the i-SERVE Vaccine service, PT. CPI and YCAB Foundation are also working together to provide a warehouse for medical equipment supplies for crisis response to support the Ministry of Health. Warehouse Management Training is also provided by PT. CPI and YCAB Foundation to employees of the Ministry of Health.
PT. Chevron Pacific Indonesia at a glance
PT. Chevron Pacific Indonesia was the contractor for the Indonesian government in the Rokan Block until August 8, 2021 and has been part of the Indonesian community since operating 97 years ago. PT. Chevron Pacific Indonesia (CPI) generated nearly $200 billion in Indonesian state revenues and created a multiplier effect on communities in Riau and other parts of Indonesia.
YCAB Foundation at a glance
Founded in 1999, the YCAB Foundation is the flagship organization of the YCAB Social Enterprise Group. With a vision to break the cycle of poverty by using financial inclusion as an instrument to expand education, YCAB Foundation has successfully impacted more than 4.1 million young people and nurtured nearly 200,000 ultra-micro female entrepreneurs. In 2021, YCAB Foundation was ranked #29 on TOP SGO/NGO by NGO Advisor in Geneva. Read the latest YCAB Foundation information at www.ycabfoundation.org