press release

Chevron Underlines Importance of Collaboration and Partnership in Supporting Nature-Based Solutions to Achieve Net Zero Emission Targets and Strengthen the Indonesian Community
Jakarta, June 29 2022 – Chevron announced it is a founding member of the 2022 AVPN Healthcare Pooled Fund, which aims to strengthen primary healthcare in rural and hard-to-reach urban areas of Southeast Asia.
Round II of the Pooled Fund was launched at the AVPN Global Conference 2022 in Bali from 20 – 24 June 2022 that focused on Maternal, Newborn, Child Health and Nutrition in Cambodia, Indonesia, Philippines, and Vietnam. Chevron is contributing $600,000 over the three-years of the Pooled Fund starting from 2021.
At the conference, Chevron shared its experiences in sessions related to nature-based solutions and STEM education.
Since 2018, Chevron has contributed US$ 700,000 to nature-based solutions such as coastal restoration efforts especially in Indonesia's mangrove ecosystems / Mangrove Ecosystem Restoration Alliance (MERA) covering 200.000 hectares in Riau and 25 hectares of Muara Angke Wildlife Preserve (SMMA) in Jakarta, in collaboration with Yayasan Konservasi Alam Nusantara (YKAN) and other industry partners.
The ongoing MERA project in SMMA is also a collaboration with the Jakarta Natural Resources Conservation Center (BKSDA) from the Ministry of Environment and Forestry (KLHK)
"Chevron understands that achieving change at scale in Indonesia requires partnership and collaboration. Thus, the company has cooperated with various industry players, both local and multinational, to support programs that promote nature-based solutions. We hope that these programs can support the government in achieving the national energy transition targets as well as strengthening communities," said Wahyu Budiarto, Country Manager of Chevron Indonesia.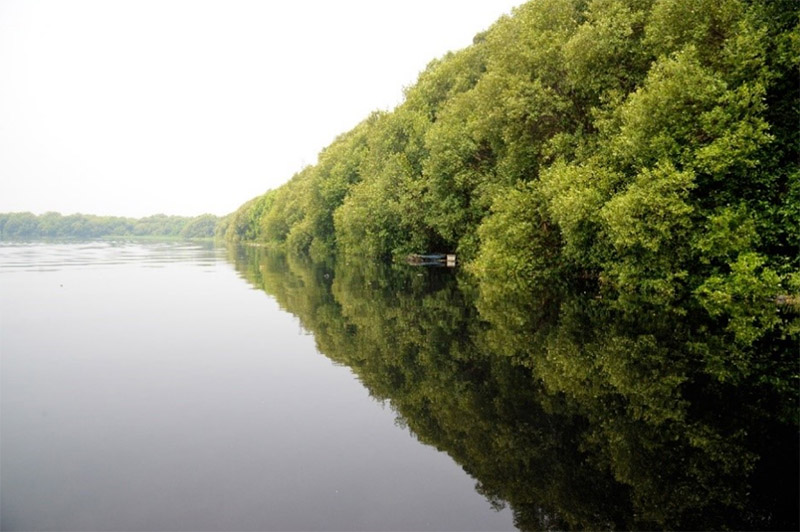 In Riau, Chevron and YKAN supported the Riau Provincial Government in restoration planning for integrated coastal management through the same program. This restoration plan has been used as the basis for the government to carry out coastal restoration, especially for mangrove ecosystems.
For Jakarta, Chevron not only supported the planning, but also carried out ecosystem restoration activities and infrastructure strengthening to advance the function of the Muara Angke Wildlife Preserve area as a mangrove education center in Jakarta, aimed at increasing public awareness on the importance of mangrove ecosystem conservation.
"By harmonizing the public and private sectors to work together in restoring mangrove ecosystems, we hope to support the acceleration of the recovery process and protect the mangrove ecosystem sustainably thereby supporting coastal livelihoods and Indonesia's biodiversity," said Director of Marine Program YKAN Muhammad Ilman.
In addition to the MERA program, since 2021, Chevron through the Chevron Miller Center for Social Entrepreneurship initiated the Asia Pacific Climate Resilience Accelerator program to advance climate resilience solutions through social entrepreneurship for the next three years. The US$ 900,000 initiative aims to support companies in developing reliable climate-smart agriculture, safe water, and low-carbon energy solutions for vulnerable communities in Asia Pacific, including Indonesia. The program also encourages research and the development of specific training methods to address the biases women and minority-owned businesses tend to face in fundraising. Companies interested in the initiative can register for the program through this link.
This program has successfully supported various local companies, such as Yayasan Rumah Energi (Rumah Energi), which is a non-profit grassroot civil society organization (CSO) that focuses on Renewable Energy, Climate-Smart Agriculture, and Social Entrepreneurship.
"The Chevron Miller Center Asia Pacific Climate Resilience Accelerator program challenges us to think of ourselves as not just NGOs but social enterprises. There are dedicated mentors designated for us to help us shape and scale our business to deliver positive impact to the community and the environment," explained Rebekka Sondang Angelyn, Executive Director of Yayasan Rumah Energi (YRE).
About Chevron
Chevron is one of the world's leading integrated energy companies. As a company of problem solvers, we look to the future of energy with optimism. We provide affordable, reliable, and ever-cleaner energy that is essential to achieving a more prosperous and sustainable world. We invest in community programs that help advance the UN's sustainable development goals and strive to empower people to meet their full potential.
About YKAN
Yayasan Konservasi Alam Nusantara (YKAN) is a non-profit, science-based organization established in 2014. With a mission to protect land and marine areas as pillars of life, we provide innovative solutions to achieve harmonization of nature and humanity through effective natural resource management, advancing non-confrontational approach, and building partnership networks with all stakeholders to build a greener Indonesia. For more information, please visit www.YKAN.or.id.