siaran pers

YCAB Foundation dan PT Chevron Pacific Indonesia Gelar Pelatihan Manajemen Gudang Alat Kesehatan Untuk Mendukung Kementerian Kesehatan RI
Jakarta, 25 April 2022 – The COVID-19 pandemic, that has lasted for more than two years, has resulted in a specific need for the Ministry of Health of the Republic of Indonesia for additional support in the form of a warehouse to store medical devices, both domestic and aid from other countries. This has prompted YCAB Foundation and PT Chevron Pacific Indonesia (PT CPI) to provide a medical device storage warehouse as well as certified training for the Ministry of Health's workforce in Warehouse Management.
The Warehouse Management Certification training was held in early February 2022 by PT CPI along with YCAB Foundation and was attended by 15 employees. Through this training, the employees were equipped with various learning materials, such as lean thinking and 5R/5S, an intensive regional arrangement and maintenance method that is used to improve the efficiency and performance of the company or workplace as a whole. This virtual training received positive responses from the participants.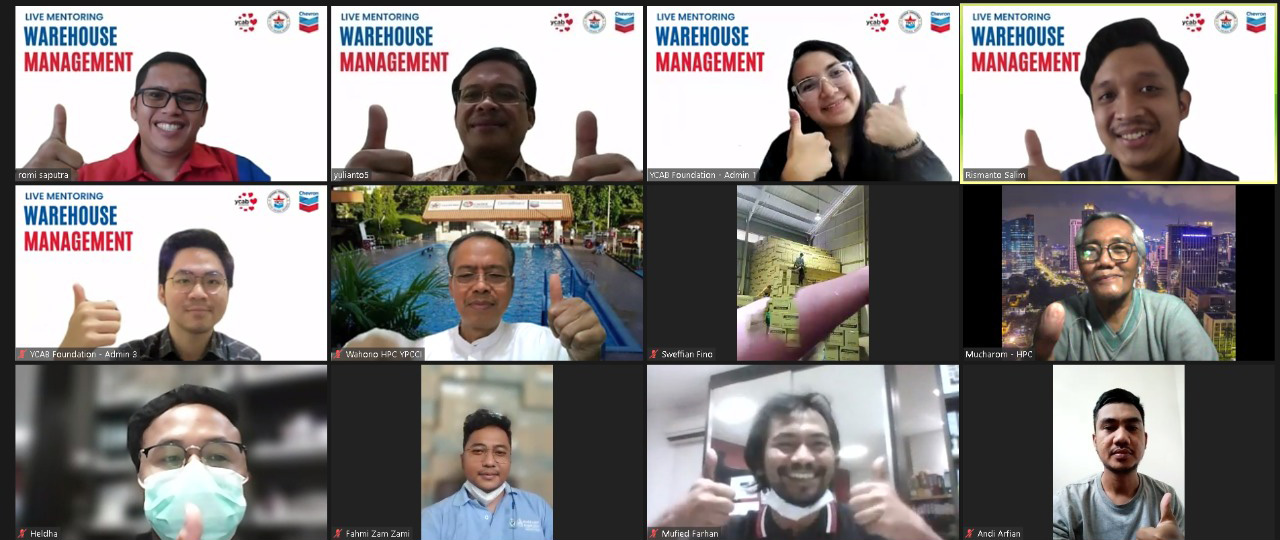 In addition to receiving certified training, the Ministry of Health workers were also recipients of a mentoring program by Warehouse Management experts who are also members of the Chevron Pensioners Association from the Caltex/Chevron Indonesia Pensioner Foundation (HPC-YPCCI) on Thursday, April 14, 2022. The PT CPI retirement organization, together with the YCAB Foundation, provided voluntary online coaching classes to 15 trainees, where they shared their experiences in warehouse management, as well as held an open discussion forum for the participants.
Warehouse Management training is essential because factors such as adequate planning, management, and implementation must be considered in the effective management of medical device maintenance. In 2011, WHO stated that medical devices require scheduled and unscheduled maintenance. Thus, the organization or user must ensure that medical devices are stored in safe, appropriate, and reliable working conditions, as well as operate according to their level of performance.
"I hope that the complete medical equipment storage warehouse facility can further support the Indonesian Ministry of Health and the Government of Indonesia in tackling the Covid-19 Pandemic. In addition, training and mentoring activities for the Ministry of Health employees regarding Warehouse Management are also important to increase knowledge among trainees in maintaining and managing these medical devices," said Wahyu Budiarto, Indonesia Country Manager for PT Chevron Pacific Indonesia.
Previously, YCAB Foundation and PT CPI collaborated in dealing with the COVID-19 pandemic through the i-SERVE Vaccine program. The mass vaccination activity lasted for two months in various areas in West Java, which at that time was still in the process of achieving the national vaccination target.
"This collaboration is one out of thousands of steps supporting the government's program in suppressing the number of COVID-19 cases. I hope that by holding this mentoring activity, it can further help health workers in terms of maintaining and managing medical devices effectively. Hopefully, this donation of medical equipment storage warehouse can help the Indonesian Ministry of Health in dealing with the COVID-19 pandemic, because the maintenance of medical devices and their storage areas are important supporting factors." stated Veronica Colondam, Founder and CEO of YCAB Foundation.
It is hoped that the collaboration between YCAB Foundation and PT Chevron Pacific can continue to produce programs that support government activities as well as provide ongoing assistance to the general public.
Sekilas PT Chevron Pacific Indonesia
PT Chevron Pacific Indonesia adalah kontraktor kontrak kerjasama pemerintah Indonesia di Blok Rokan hingga 8 Agustus 2021 dan telah menjadi bagian dari masyarakat Indonesia sejak beroperasi 97 tahun yang lalu. PT Chevron Pacific Indonesia (CPI) menghasilkan hampir $200 miliar bagipendapatan negara Indonesia dan menciptakan efek berganda bagi masyarakat di Riau dan daerah lain di Indonesia. Kenali kami lebih jauh, dengan mengunjungi indonesia.chevron.com
Sekilas YCAB Foundation
Didirikan pada tahun 1999, YCAB Foundation adalah organisasi unggulan dari YCAB Social Enterprise Group. Dengan visi untuk memutus siklus kemiskinan dengan menggunakan inklusi keuangan sebagai instrumen untuk memperluas pendidikan. YCAB Foundation telah berhasil memberikan dampak kepada lebih dari 4,1 juta generasi muda dan membina hampir 200.000 perempuan pengusaha ultra-mikro. Pada tahun 2021, YCAB Foundation menduduki peringkat #29 pada TOP SGO/NGO oleh NGO Advisor di Jenewa. Baca informasi terbaru YCAB Foundation di www.ycabfoundation.org