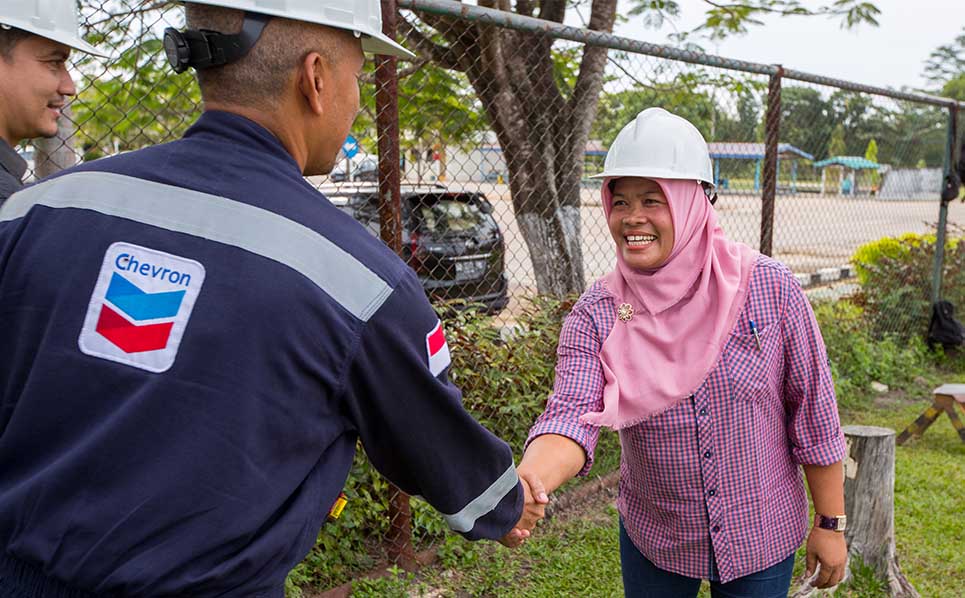 We are committed to improving social and economic conditions wherever we operate, with focus on sustainable livelihoods and sustainable employment opportunities promotes self-sufficiency. In collaboration with our partners, we identify programs to promote a better standard of living.
local business development
We support programs that offer training in small business development and supply chain management. Our Local Business Development (LBD) program is intended to develop and transform small local companies and cooperatives located in our operational areas in Riau and East Kalimantan into reliable, professional and competitive suppliers of goods and services, while boosting the local economy. Since it launched in 2001, the program has awarded more than 7,500 contracts to Indonesian local companies and created more than 50,000 jobs.
Through LBD workshops, budding entrepreneurs are provided with training in Health, Environment, and Safety, procurement procedures, business ethics, project management, technical aspects and financial management to develop their capacity. In 2008, our LBD program was recognized by the Ministry of Energy and Mineral Resources through the Padma Award for Social Solidarity.
promoting entrepreneurship
Our multi-year economic development "PRISMA" program provides small grants, capacity building training, technical assistance and access to loan through micro finance institutions to local farmer groups, small businesses and cooperatives in 11 regencies and cities in Riau, East Kalimantan and West Java. In total, the PRISMA program supports more than 1,500 beneficiaries. The program covers assistance in 34 sectors, including agriculture, fishery, processed food commodities, creative industry in the form of tenun (weaving) and batik making, as well as the establishment of eco-cultural tourism villages.
We introduced an integrated farming practice to the Sakai people in Riau by providing them with agricultural, fishery and livestock training as well as technical assistance. In 2013, a cooperative was established to better assist the Sakai farmers in managing their fish and duck farming and agriculture products as well as product marketing and distribution.
A group for people with disabilities and women in Balikpapan was provided with a series of training, equipment, materials and marketing help to produce environmentally-friendly batik products. Similar assistance in batik-making is also being offered to a group of women in Rumbai through the establishment of Cempaka Batik House. Training and assistance in craft production are also provided to women in three different districts in East Kalimantan. These women are trained to transform non-recycled agricultural and plastic trash into craft products, such as purses, artificial flowers and tote bags. In Dumai, we provide assistance to Putri Tujuh weaving group, who produce beautiful Siak traditional weaving cloth.
Started in late 2012, together with our partner, we established a program of which the main objectives are to increase the income of local coconut famers and coconut and palm sugar processors in seven villages in Penajam Paser Utara Regency, East Kalimantan, through the application of good agriculture and processing practices. The program had provided benefits to more than 400 and nearly 1,000 direct and indirect beneficiaries, respectively. Some 40 small businesses have successfully increased their income through the reduction of production costs, product diversification, and better product quality.