Our investments in education and training help people and communities thrive. Education has been a focus for Chevron in Indonesia since 1957 when we established the first state senior high school, SMAN 1, in Pekanbaru, Riau.
polytechnic schools
In 2001, in collaboration with the Riau provincial government, we established the first polytechnic institution in Riau, the Riau Caltex Polytechnic (PCR), to train local students for jobs in the industrial sector. The polytechnic now has 1,500 students enrolled and offers a curriculum to match the province's business needs and contribute to its economic growth. Overall, PCR offers eight diploma programs – computer engineering, electronic engineering, telecommunications engineering, mechatronics, accounting, multimedia IT engineering, industrial information systems and advanced telecommunications engineering. PCR is growing and currently it is self-funded and independent from Chevron. In Banda Aceh, we built Aceh Polytechnic with our partners in the long-term recovery effort following the 2004 tsunami. More than 3,800 students have graduated from these two schools.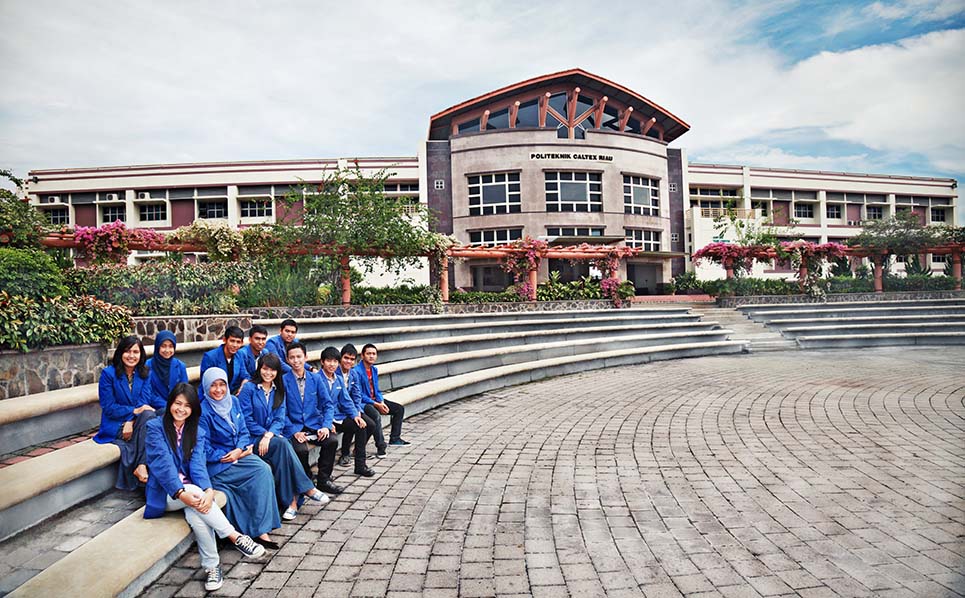 darmasiswa chevron riau scholarships
We established the Darmasiswa Chevron Riau scholarship program in 2001 to aid talented high school students in the Riau province to continue their college education. Working together with provincial and district/municipal education agencies, Chevron conducts a defined selection process each year to identify students with strong potential. Every year, we send approximately 60 selected students to attend some of the most prestigious colleges in Indonesia, such as the University of Indonesia, Bandung Institute of Technology, Gadjah Mada University and Padjajaran University, etc. To date, more than 1,000 outstanding students have benefited from this program.
After graduation, DCR beneficiaries found employment as government officials, employees at national and multinational companies, teachers, lecturers, doctors, and consultants. Some are also working at Chevron.
vocational training
Throughout our operations in Riau, as well as in East Kalimantan, in collaboration with local governments, non-governmental organizations, youth organizations, universities and vocational schools, we established various vocational training programs. The initiative is intended to diversify the economy of the local communities and to increase employment opportunities by upgrading the skills of young people, under-served students and women. Since the program establishment in 2012 more than 670 women and youth have been trained.
The training courses vary from year to year but generally include welding, automotive repair, heavy-equipment operation, carpentry, rigging, electrician, motorcycle repair, audio technical work, air-conditioner repair, entrepreneurship, batik and craft making, beautician services, sewing and cooking. In Duri, Riau, in partnership with Politeknik Caltex Riau, we also provide selected graduates with an endowment fund to start their own businesses.
university program
We collaborate with universities to improve the quality of educations through University Partnership Program (UPP) and University Relationship Program (URP). We consider these educational partnerships to be strategic investments in the economic development of local communities and the future of the energy business.
Chevron's UPP works with more than 100 colleges and university partners around the world to help attract and develop talented students and lecturers who can help achieve a more technically proficient global workforce. In Indonesia, the Bandung Institute of Technology (ITB) and the University of Gadjah Mada (UGM) are UPP university partners. We provide strategic and multifaceted supports, which include scholarships, grants, funding for faculty positions and laboratory upgrades.
For URP, Chevron partners with Riau State University (UNRI), Riau Islamic University (UIR), University of Lancang Kuning (UNILAK), and Riau Muhammadiyah University (UMRI). We help provide capacity building enhancement both for students and lecturers, infrastructure improvement of the recipient universities, and higher accreditation of selected study program.
sakai education
We also support the education of the Sakai people, an indigenous tribe in Riau. Our focus is to provide access to pursue higher level study and improve education quality and capacity building of Sakai students. We supply books, provide incentives for teachers and offer educational grants to thousands of Sakai children through our Beasiswa Anak Asuh Sakai (Sakai Foster Children Scholarship) program. Since 2001, approximately 2,000 Sakai natives have received the education assistance.